Enron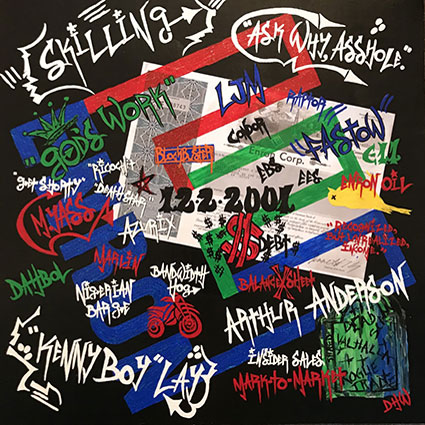 click to view HD quality image
Painting – $2,500 (20″x20″)
Trading sardines not your thing?

Read Shorting Obits, and see your life flash before your eyes?

Robinhood effect blowing holes in Risk Management?

Are your kids turning to Davy Day Trader for advice?

Exhausted trying to stay solvent during an era of irrational exuberance?
Distract yourself from these unpleasantries with an original from Wall Street Scoundrel Art. A welcome reminder that, despite incompetence at the SEC, BaFin, FDA, Big 4, and NHTSA, crime doesn't always pay.
Wall Street Scoundrel Art focuses exclusively on frauds – past and present – portraying the nuances of these infamous companies from a short seller's perspective. An undiscovered, micro-niche corner of the art market not subject to crowding. Indulge in a one-of-a-kind painting for your trophy wall, or as a not unthoughtful gift for holidays, annual meetings and prison parties.
Prints, HD metal prints and jigsaw puzzles available. Commissions featuring your favorite fraud accepted.